Work with the healthy vending machine company in Amherst, Buffalo and Western NY.
Home Run Vending is proud to announce our new catering options. Let us help you pick out your catered order, deliver it and set it up. Learn more about options from your favorite Buffalo restaurants.
Home Run Vending is now partnering with Queen City Foods as part of their mobile food service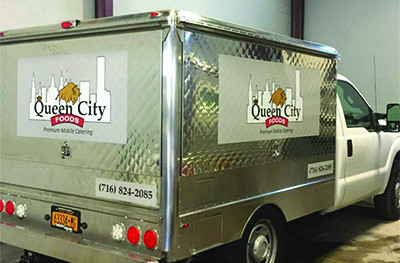 We're proud to announce a new partnership with 716 Fresh here in Amherst and Buffalo, NY to offer healthy and organic foods through our vending machines!
School compliant healthy, individually packaged meals through 716 Fresh
We deliver 716 Fresh products to residents and businesses throughout Western NY, so get on our weekly route today!

Choose the healthy option with Home Run Vending Services
Are you tired of providing unhealthy snacks to your students, faculty or staff? If so, purchase your healthy vending machine from Home Run Vending Services. We believe that eating healthy should fit around your schedule. That's why we provide vending machine services designed to meet the unique needs of your organization.

We sell new and refurbished vending equipment throughout Amherst, Buffalo, and WNY. To discuss your unique needs, call now to speak with a member of our team.
Get a healthy vending machine for your business in Amherst & Buffalo, NY
Finally, a vending machine company that offers healthy options! When you let us handle your vending machine services, you're making an excellent choice because:

We offer healthy options that comply with school regulations
We have over 30 years of industry experience in Amherst, NY
We're one of the only companies that offer healthy vending machine options

So, what are you waiting for? If you need healthy vending machine services in the western New York area such as Amherst & Buffalo, call now.

Welcome to Home Run Vending Services
Our goal is to serve your organization and provide for its vending and refreshment needs.

Our many years of serving the Western New York community makes us the solid choice for meeting your vending needs. Our unparalleled customer service allows us to meet your specific requirements and concerns.

We sell and service all new and refurbished vending equipment.