Buffalo Pizza
All Sheet Pizzas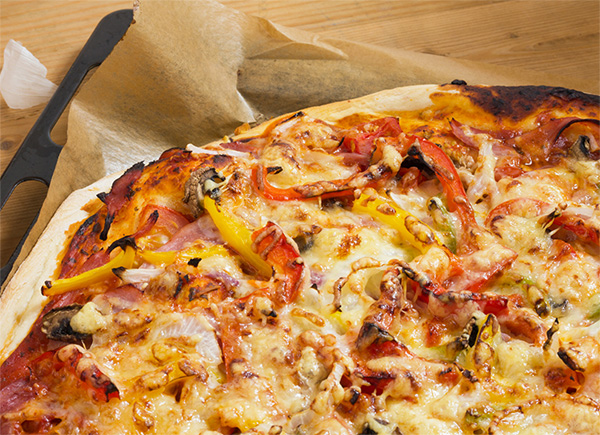 Bob & John's La Hacienda
Chicken Finger Pizza Sheet Pizza
$45
Bleu Cheese sauce, mozzarella cheese, chicken fingers in hot sauce
Bacon Chicken Ranch Sheet Pizza
$45
Ranch Dressing, bacon, chicken with Monterey Jack Cheese
Spinach Sheet Pizza
$45
Bleu cheese flavored sauce, Mozzarella and Romano cheese, spinach and mushrooms
Bocce's Club
Bocce's Deluxe Sheet Pizza
$59
Mozzarella cheese, pepperoni, mushrooms, anchovies, onions, sweet peppers
Meat Eater's Sheet Pizza
$59
Mozzarella cheese, pepperoni, sausage, beef and bacon
All American Sheet Pizza
$46
Sizzing crisp bacon on mozzarella and cheddar cheese
Franco's Pizzeria
Stinger Sheet Pizza
$59
Sliced Sirloin Steak and Chicken Fingers
Chicken Bacon Ranch Sheet Pizza
$59
Ranch dressing base, grilled chicken, mozzarella & cheddar cheese
Chicken BBQ Sheet Pizza
$59
BBQ Sauced grilled chicken with mozzarella & cheddar cheese
La Hacienda Brighton
Brighton Sheet Pizza
$45
Red sauce and a blend of Mozzarella, Provolone, Romano, and cheddar cheeses
Chicken Cordon Bleu Sheet Pizza
$45
Garlic butter, Provolone and Mozzarella cheese, chicken and ham.
Stuffed Hot Peppers Sheet Pizza
$45
Garlic Sauce, mozzarella cheese, stuffed peppers, olive and bread cru
La Nova
La Nova Super Steak Sheet Pizza
$54
Steak with four different cheeses, fresh mushrooms, onions and sweet peppers
White Sheet Pizza
$54
No sauce, topped with grated cheese, fresh cut tomatoes, Sicilian olive oil, garlic, onions, peppers and oregano. Additional toppings available.
Grandma's T's "Authentic Old World" Sheet Pizza
$52
Fresh Tomato Sauce, Pecorino Romano cheese, Italian Sausage, banana peppers & onions. Additional toppings available.
John's
The Original Chicken Finger Sheet Pizza
$49
Tender Chicken Fingers, diced celery, chicken finger sauce covered with Sorrento mozzarella.
John's House Combo Sheet Pizza
$49
Pepperoni, sausage, onion & Green pepper over Sorrento mozzarella with traditional pizza sauce
John's Big Mac Sheet Pizza
$49
Crumbled hamburger, 1000 Island Dressing, Three cheese blend with chopped pickles and onions then topped with lettuce on Sesame seed pizza dough